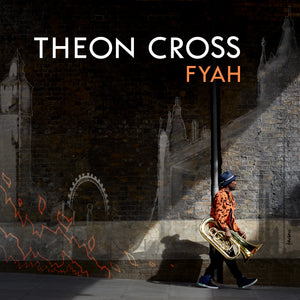 Theon Cross - 'Fyah' Vinyl LP
Regular price $24.00 Sale
Fyah

Release date: 15 February, 2019
180gram 33rpm LP
Stereo
As one of the stalwarts of the London jazz scene, Theon Cross has been dominating airwaves and stages recently. He's part of a thriving family network of young London-based musicians who have regularly supported one another in stretching and re-shaping the boundaries of the jazz genre.

Additional side-projects include performing and recording with individuals such as Makaya Mcraven, Pharaoh Monche, and featuring on Gilles Peterson's compilation album We Out Here. Within all this noise, Cross has also been leading his own trio project with Nubya Garcia and Moses Boyd. The band released an EP back in 2015 and are now following up with a full studio album, 'Fyah'.

Cross makes the tuba his own, mixing together early New Orleans bass line influences as well as the synth soundscapes and rhythms from modern grime and trap. His innovative style brings a new dynamic to the scene as he paves the gap between more traditional jazz styles and dance music.


Tracklist

A1 Activate 
A2 The Offerings 
A3 Radiation 
A4 Letting Go 
B1 Candace Of Meroe 
B2 Panda Village 
B3 CIYA 
B4 LDN's Burning


Credits

Theon Cross: tuba
Moses Boyd: drums
Nubya Garcia: tenor saxophone (Tracks 1-4, 6 & 8)
Wayne Francis (Ahnansé): tenor saxophone (Tracks 5 & 7)
Artie Zaitz: electric guitar (Tracks 5 & 7)
Tim Doyle: percussion (Track 5)
Nathaniel Cross: trombone (Track 7)

All tracks composed and arranged by Theon Cross.
Horn arrangements on 'CIYA' by Wayne Francis (Ahnansé) and Nathaniel Cross.

Recorded at Soup Studios by Giles Barrett and David Holmes.
Mixed by David Wehinm.
Mastered and cut by Darrel Sheinman and Caspar Sutton-Jones at Gearbox Records.