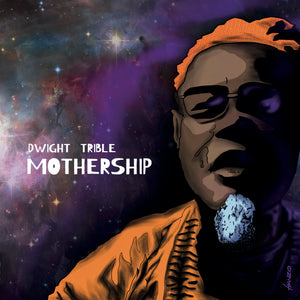 Dwight Trible - 'Mothership' Cosmic Vinyl LP
Regular price $29.00 Sale
Mothership


GB1552ISS

Limited edition cosmic vinyl, printed on cosmic-coloured vinyl!

Release date: 15 March 2019

2 x 180g 33rpm Vinyl LP

Stereo


"A quintessential, forward-looking album that invokes themes of maternal love, family and transcendent spirituality." - LA Weekly


Dwight Trible is a rarity. Few singing careers involve performing with the legendary likes of Pharaoh Sanders, Kenny Garrett and Charles Lloyd, whilst also producing and innovating music with today's hippest artists, ranging from J Dilla to Kamasi Washington. 



His upcoming album, 'Mothership', is thus a true masterpiece. Trible's voice, unrivalled in its passion and depth, is set against a background of spiritual riffs brought about by LA's top jazz musicians, with Kamasi on saxophone no less. As arguably the world's greatest living jazz vocalist, Dwight Trible is a legend in waiting - and it's time he was heard.

Miguel Atwood-Ferguson: viola (Tracks 4,7,9,12)
Mark de Clive-Lowe: piano
Maia: harp (Tracks 5,9)
Carlos Niño: hand percussion (Tracks 1,2,5,7)
Derf Reklaw: percussion (Tracks 1,2,5)
Ramses Rodriguez: drums
Dwight Trible: vocals
Kamasi Washington: tenor sax (Track 1)
John B. Williams: double bass

Track listing
A1. Mothership
A2. It's All About Love
A3. Mother
B1. Brother Where Are You?
B2. Standing In The Need Of Prayer
B3. Song For My Mother
C1. Tomorrow Never Knows
C2. Thank You Master
C3. Desert Fairy Princess
D1. Walkin' To Paradise
D2. These Things You Are To Me
D3. Some Other Time


Recorded by Riccardo Damian at Sunset Sound Studio

Mixed by Goetz Botzenhardt

Mastered and cut by Darrel Sheinman and Caspar Sutton-Jones at Gearbox Records

Cut on a Haeco Scully lathe with Westrex RA1700 series amps, Westrex 3DIIA cutting head and Telefunken U73B tube limiter; Decca valve equalisation; monitored on Audio Note equipment.

Illustration by Hanzo Schwarz

Graphic design by Alan Foulkes