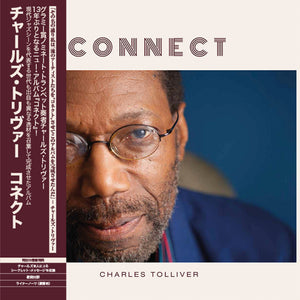 Charles Tolliver - 'Connect' Japanese Edition Vinyl LP
Regular price $27.00 Sale
Connect
GB1561OBI
The Official Japanese Edition
Release date: 31 July, 2020
Standard 180g 33rpm Vinyl LP with Obi strip
Stereo
AAA
Liner notes by Masaaki Hara

"One of the last significant trumpet players from the 1960s still unleashing the kind of improvisational fury associated with those hard-blowing years." -JazzTimes

"His sound is big and fierce and raw… defined by heady intellectual content and an animating inner fire." - Downbeat

New York-based trumpeter, composer and educator Charles Tolliver presents Connect, his first album in 13 years.

Recorded to tape at RAK Studios last November and engineered by Tony Platt (Bob Marley, Jazz Jamaica All Stars, Abdullah Ibrahim), the line-up features top musicians from the New York jazz scene who have collectively played with the likes of Herbie Hancock, Nancy Wilson, and Chick Corea. Forming as the Charles Tolliver All Stars, the band includes Jesse Davis on alto saxophone, Keith Brown on piano, Buster Williams on double bass, and Lenny White on drums. The album also bridges together New York and London by featuring leading British saxophonist Binker Golding on two tracks, (Binker & Moses, Moses Boyd Exodus, Zara McFarlane.)

On recording with Gearbox, Charles said:

… with both of our collective recording label expertise a recording of my touring band could and would be done. I chose to CONNECT consummate artists whose performances represent absolutely 'THE' Real Deal in this Artform - Lenny White, Buster Williams, Jesse Davis, Keith Brown. The excellent artistry of Binker Golding was added for some tracks by Darrel." 
Tracklist

A1. Blue Soul
A2. Emperor March

B1. Copasetic
B2. Suspicion

Credits

Charles Tolliver - trumpet
Jesse Davis - alto saxophone
Binker Golding - tenor saxophone (A2 + B2)
Keith Brown - piano
Buster Williams - double bass
Lenny White - drums

Recorded and mixed by Tony Platt at RAK Studios
Mastered and cut at Gearbox Studio