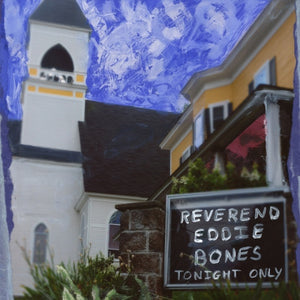 Mad King Edmund & Cooper-Moore - 3 CD boxset + limited 7" vinyl
Regular price $31.00 Sale
The Cooper-Moore Sessions

GB1536
Custom 3-CD tin housed in specially tailored burlap bag with multiple collectible art cards by renowned jazz painter Michael Reilly. 

Also included: highly limited stereo 7" 45rpm single. 

In 2011 free jazz improvising legend Cooper-Moore traveled to Nashville to record with Ed Pettersen, Jerry Navarro and Dylan Simon. Over the course of two days they freely played and created enough material for three CD's. two of which are represented here. The middle disc of this "The Cooper-Moore Sessions" set, "Occupied", was recorded live at Dubway Studios in NYC with Larry Roland on double bass during down time from recording with sax great Giuseppi Logan (The Giuseppi Logan Project album). 

This collection, the first in ten years for Cooper-Moore, is a beautiful snapshot of his brilliance. From his instruments made of found objects to the deft acoustic piano work he was known for with David Ware for over 30 years it's all here. Every facet of his genius in one place for the first time 

In addition to the downloads there's a VERY limited box set of all three CD's with custom art cards from jazz artist Michael Reilly housed in a special tin cradled in a tailored burlap sack printed with an image of Michael's rendition of C-M.