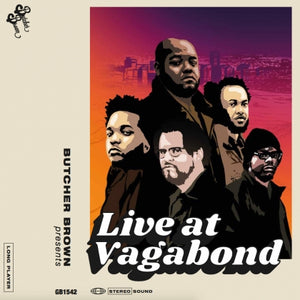 Butcher Brown - 'Live at Vagabond' Vinyl LP
Regular price $24.00 Sale
Live At Vagabond

GB1542
Standard 180g 33rpm Vinyl LP
Stereo

Live At Vagabond 180 gram 33rpm LP Butcher Brown is something increasingly rare - a real band, playing for their audience and for each other. Dedicated to innovation, informed by a love of the past, their sound is a modernist fusion, fizzing with explosive energy, rich in jazz licks and astonishing with raw musicality. Gearbox Records is proud to present this, their first ever multi format global release. It's a hometown gig (Richmond, Virginia) from July of this year.
The electrifying energy reminds us how vital a live album should be. Multi-instrumentalist DJ Harrison (who's recently released a debut solo album on the mighty Stones Throw label) is broadly seen as the visionary, albeit this is an egalitarian band. Here his keys provide the harmonic colours around which drummer Corey Fonville's (Christian Scott, Nicholas Payton) muscular delivery and bassist Andrew Randazzo's effortless cool pulsate. Marcus Tenney on Trumpet and Morgan Burr's guitar complete the quintet.
The players were all born after the mid-70s, fusion's golden age, but their modern, hiphop inflected funk has rich echoes of Weather Report, Return To Forever and early Earth Wind and Fire.
This is the sound of a band on the verge of a brilliant future. Track Listing: A1 Tomahawk (7:39) A2 Cairo (6:07) A3 Moses (4:33) B1 Forest 2.0 (6:25) B2 Lysol (6:28) B3 Tunnelvision (5:44) Musicians: DJ Harrison: keys Corey Fonville: drums Andrew Randazzo: bass Marcus Tenney: trumpet Morgan Burrs: guitar Recorded live at Vagabond, Virginia, 21st July 2017 Engineered & Mixed by Lance Kohler, Minimum Wage Recording Mastered by Darrel Sheinman and Caspar Sutton-Jones at Gearbox Records. Cut on a Haeco Scully lathe with Westrex RA1700 series amps, Westrex 3DIIA cutting head and Telefunken U73B tube limiter; Decca valve equalisation; monitored on Audio Note equipment.