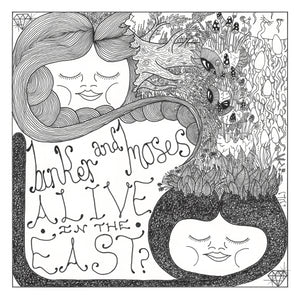 Binker and Moses - 'Alive in the East?' Standard Vinyl LP
Regular price $25.00 Sale
Alive in the East?

GB1547
Release date: 22 June, 2018
Standard 180g 33rpm Vinyl LP
Stereo
Following the release of 'Journey To The Mountain Of Forever', which earned the duo vast worldwide acclaim, semi-free jazz trailblazers Binker and Moses return with their new album 'Alive In The East?'

Recorded at Stoke Newington's Total Refreshment Centre, which has been, and continues to be, a prominent platform for promoting, recording and releasing some of the best new talent from the British underground. 'Alive In The East?' serves as a companion piece to 'Journey' but with a different energy - as North London is to South London, as West is to East. It features a number of the UKs most prominent musicians, both old and new including guest appearances from Evan Parker, Byron Wallen, Tori Handsley and Yussef Dayes – making this one of only two recordings that this particular line-up has played on.
'Alive In The East?' perfectly encapsulates the fervent energy and future-facing magnetism of the current scene in London. Full of vehement improvisation, shamanic spiritual free jazz trances and invigorating raw power, the albums two-drum, two-saxophone, trumpet and harp combination is all at once hypnotic and mercurial. Whilst it's important to note the estimable series of musicians on the record, and their technical prowess, the real attraction here is in the groups inimitable passion for exploration, development and thirst to push the boundaries of jazz both musically and conceptually.

Track Listing: A1 The Birth Of Light A2 How Land Learnt To Be Still A3 The River's Tale A4 How Fire Was Made A5 How Air Learnt To Move B1 Children of the Ultra Blacks B2 Mishkaku's Tale B3 The Discovery of Human Flesh B10 The Death of Light
Binker Golding (Tenor Sax) Moses Boyd (Drums)

Also features: Yussef Dayes (Drums) Tori Handsley (Harp)
Evan Parker (Tenor and Soprano Sax) Byron Wallen (Trumpet)