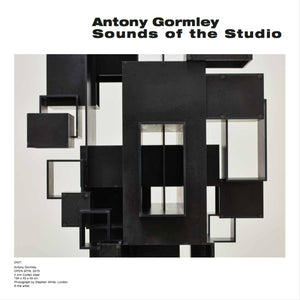 Antony Gormley - 'Sounds Of The Studio' Vinyl LP
Regular price $25.00 Sale
Sounds Of The Studio

GB1544
Standard 180g 33rpm Vinyl LP
Mono
AAA

"We live in our studios and we never think about the noise that we make."

                                                                          Antony Gormley                                                                                                  
                                                                                  
In tandem with the Royal Academy's exhibition of Antony Gormley's work this year (September 21 - December 3), we're making our 2018 release 'Sounds Of The Studio' available direct from Gearbox for the first time.  

For more information on the exhibition: 
https://www.royalacademy.org.uk/exhibition/antony-gormley

Turner Prize winning British Sculptor Antony Gormley (Angel of the North) is arguably Britain's premier artist. Exhibitions of his works draw huge crowds in every corner of the world. Gearbox Records have created a teleportational sound portrait of his cathedral-like studio in all its working glory. Hammers, grinders, fans, welders, and all sorts of other beasts reverberate in the vast caverns of an extraordinary acoustic space. A true AAA valve mastered mono recording, direct to 1/4 inch tape using the legendary RCA KU-3A ribbon microphone. 
Artfully presented in a beautiful sleeve, with a special forward from Gormley himself.