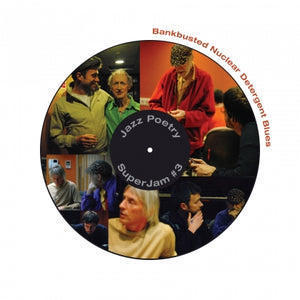 Michael Horovitz/Damon Albarn/Graham Coxon/Paul Weller - Vinyl LP
Bankbusted Nuclear Detergent Blues

GB1520
Released in 2013
(Jazz Poetry SuperJam #3)
12" 180gram 33rpm LP reissued on white vinyl in a limited edition of 500.
Stereo
Curated, analogue mastered and cut at Gearbox Studio

Michael Horovitz brings his Jazz-Folk-Rock-Poetry SuperJam movement forward to the present day. On this 2013 studio recording of Bankbusted Nuclear Detergent Blues, an effervescent improvisatory poem-sequence which he wrote for Paul Weller, he is accompanied by three of the UK's most popular musicians – Weller himself, Graham Coxon & Damon Albarn.

The record was recorded at Weller's Black Barn Studio and Albarn's Studio 13, and mixed at Studio 13, and originally released for Record Store Day 2013 alongside the accompanying Gearbox Records releases 'Ballade Of The Nocturnal Commune' (Jazz Poetry SuperJam #2) and the 2 LP box set 'Blues For The Hitchhiking Dead' (Jazz Poetry SuperJam #1).

Paul Weller found that: "...It was my absolute pleasure to work in these recordings with Michael. Damon and Graham. I am a big fan of all three of these artists and just to be so free with all the music and ideas was a real buzz. A lot of fun and no egos in the way. Fabulous. The end results are amongst some of the best new things I've ever worked on".

Personnel:
Michael Horovitz - vocals & anglo-saxophone, Damon Albarn - piano
Graham Coxon - guitar, alto & soprano saxophones
Paul Weller - mini-moog, organ & guitar

Tracklisting:
Side One:
Part One - Soft Soap Flakes Kill
Part Two - Our Wonderful Culture
Part Three - It's The Economy That's Stupid

Side Two:
Part Four - Shock'n'Awe - What's It For?
Part Five - Mutually Assured Destruction = MAD
Part Six - Talkin' 'bout Degeneration