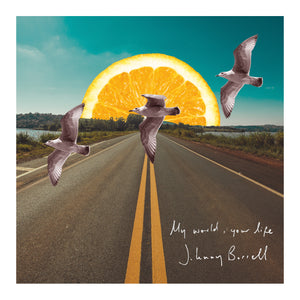 Johnny Borrell - 'My World, Your Life' 7" Vinyl Single
My World, Your Life

GB1543
Released in 2018
7" 180g 45RPM
Stereo

Brian Eno, David Byrne, Damon Albarn.. no matter how much great work they're responsible for, some artists never sit still. Johnny Borrell might one day be talked about in the same breath. His appetitie remains
undiminished despite his band Razorlight's succes over the years, and on this brilliant new release the world-travelled Borrell and his band adopt broader brush strokes, as they create 2 roots-driven slices of infectious guitar led rock bursting with musical colours, flamenco flourishes and all manner of world influences.

This release is the fourth in a series of totally valve mastered recordings featuring Gearbox's vintage Decca
valve mixer in association with their Haeco Scully lathe with Westrex RA1700 series amps, Westrex 3DIIA
cutting head, and Telefunken U73B tube limiter.
Tracklisting

A1 My World, Your Life (4:26)
B1 The Rain It Raineth Every Day (2:45)

Musicians:

Johnny Borrell - Vocals, guitars, percussion
Andrew Waterworth - Basses
Joao Mello - Saxophone, percussion, guitar and vocals
Clementine Brown - Violins and strings
Darren Berry - Percussion, drums, vocals and strings
Diane Birch - Backing vocals
David Ellis - Guitars
Matt MacLean - Additional percussion, Krishna.