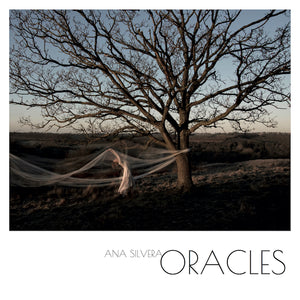 Ana Silvera - 'Oracles' Vinyl LP
Oracles

GB1548
Standard 180gm 33rpm Vinyl LP
Stereo
Since the 2012 release of her debut album, 'The Aviary', singer-songwriter Ana Silvera's work has garnered broad acclaim from audiences and critics alike. Her uniquely ethereal brand of alt-folk has seen her perform at SXSW, Iceland Airwaves Festival, Liverpool Royal Philharmonic and more, whilst recent collaborations include composing for Royal Ballet, duetting with Imogen Heap and singing original songs with early music consort Concerto Caledonia.
Now six-years after her last full-length record, Silvera is about to release her sophomore album, 'Oracles'.
Poignant, dreamlike and beautiful, and written following the sudden loss of her mother and brother, 'Oracles' was Silvera's way to transmute her grief into a cathartic work of art.
In 2011, the song-cycle was debuted with REC, and the following year was performed as part of a sold-out concert on the Roundhouse Main Stage, earning Silvera a nomination for a British Composer Award. She then returned to the Roundhouse Theatre to make a live recording of the piece, which forms her second full-length album. The recording features Silvera as a soloist, a choir led by Josephine Stephenson and a stellar line-up of guest musicians including pianist Bill Laurance (Snarky Puppy), double bassist Jasper Høiby (Phronesis) and drummer Jacob Smedegaard (Fiction, Du Blonde) as well as Simran Singh (violin), Anne Chauveau-Dhayan (cello) and Naomi Morris (percussion).
The result is a haunting yet life-affirming collection of songs whose lyrics explore loss, love, salvation and the journey towards acceptance, themes that are underscored by beguiling, weaving choral lines, mellifluous Debussian piano melodies, subtly off-kilter percussion and rapturous strings, all unified by Silvera's dynamic vocal style which evokes the delicate yet theatrical prowess of Kate Bush, combined with what the Arts Desk described as a "Björk-like spontaneity'.