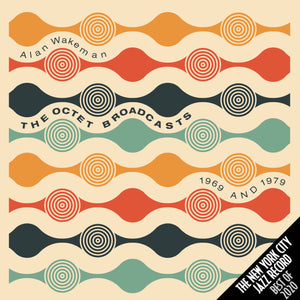 Alan Wakeman - 'The Octet Broadcasts' Vinyl LP
Regular price $29.00 Sale
The Octet Broadcasts - 1969 and 1979

GB1562
Release date: 21 August, 2020 
2 x 180g 33rpm  gatefold vinyl LP
Stereo
AAA
Limited stock. 

Watch the album trailer!


"The next generation of British jazz" - Melody Maker, 1970

"British jazz at its best" - Stuart Nicholson, Jazzwise
"There is no-one who can touch us quite so deeply on a ballad, or raise the temperature on stage with such reckless abandon when the mood takes him." - Mike Westbrook

"The next young generation of British jazz" has been applied many times to London's current jazz scene, but this headline from Melody Maker was also used to describe Alan Wakeman and his band back in 1970. And if a prototype for Binker and Moses' viscerally energetic, semi-free sound is sought, you would be hard pressed to find a closer relative than the second part of climactic Disc 1 highlight 'Dreams'.

The Octet Broadcasts is made up of two BBC sessions from 1969 and 1979 respectively. Taken and mastered from the original analogue tapes by Gearbox, the album offers a snapshot of a time when British jazz was at another high, featuring such names as John Taylor, Alan Skidmore, Paul Lytton, and Art Themen, who themselves were contemporaries of and collaborated with the likes of Evan Parker, Michael Garrick, and Tubby Hayes. 

Wakeman, influenced by Duke Ellington and Charles Mingus and mentored by Mike Westbrook, was composing singular, large ensemble pieces at a time when jazz had long left the limelight and rock was in the foreground. His brand of warm, pastoral jazz, reminiscent of brass bands and traditional chorales whilst also fit to bursting with free improvisation and dramatic motifs, is representative of a magical period in British jazz which deserves to be unearthed and heard again.
DISC 1
Jazz Workshop 1969

A1 Dreams
A2 Forever
B1 Merry-Go-Round

Musicians:
Alan Wakeman: tenor sax, clarinet
Alan Skidmore: tenor sax, flute, two gongs at once
Mike Osborne: alto sax, clarinet, tambourine
Paul Rutherford: trombone, small Chinese gong
Paul Nieman: trombone, small Chinese gong
John Taylor: piano, castanets
Lindsay Cooper: bass, sleigh bells
Paul Lytton: drums

Introduced by Brian Priestley
Produced by Roger Eames

Recorded at BBC Aeolian Studio 2 between 7.00 and 10.30pm on Friday 21st November 1969

Broadcast Sunday 8th December 1969 at 12.30am on BBC Radio 1 'Jazz Workshop'

DISC 2
Jazz in Britain 1979

C1 Charles Fox Introduction
C2 Chaturanga
C3 Manhattan Variation
D1 Vienna
D2 Robatsch Defense
D3 Kingside Breakthrough
D4 Charles Fox Conclusion

Musicians:
Alan Wakeman: tenor sax, soprano sax
Alan Skidmore: tenor sax
Art Themen: tenor sax
Henry Lowther: trumpet
Paul Rutherford: trombone
Gordon Beck: piano
Chris Lawrence: bass
Nigel Morris: drums

Introduced by Charles Fox
Produced by Pete Ritzema

Recorded at BBC Maida Vale Studio 5 between 2.30 and 6.00 pm on Wednesday 23rd May 1979

Broadcast on Monday 9th July 1979 at 11.25 pm on BBC Radio 3 'Jazz in Britain'