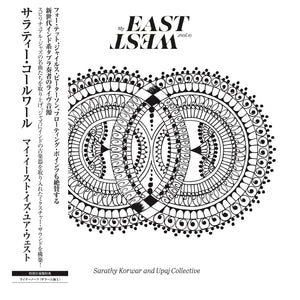 Sarathy Korwar - 'My East Is Your West' Japanese Edition Vinyl LP
Regular price $36.00 Sale
My East Is Your West
The Official Japanese Edition
GB1549OBI
Release date: March 10, 2021
3 x  12" 140g Vinyl LP, 33rpm, with Obi strip
Stereo
Liner notes by Salam Unagami
Off the back of Sarathy Korwar's much lauded Day To Day album comes the live album My East Is Your West - a performance that takes the fusion of Indian classical music with the jazz tradition further than its ever been before.

Recorded live at London's Church Of Sound, the album is a homage to the great musicians of the 60s and 70s spiritual jazz movement, covering the likes of Alice Coltrane, Pharaoh Sanders, and Joe Henderson. Korwar plays alongside the UPAJ Collective, a group of highly-versatile musicians who share Sarathy's passion for jazz and Indian music and who have together managed to rebalance the cross-cultural relationship between 'Western' and 'Eastern' music.

With every record Sarathy releases his music becomes more exploratory and insightful, delving into his personal influences, which also inspire much of the music in the jazz scene that surrounds him. At a time where UK jazz is being heralded for its progression, innovation and far-reaching appeal to people from varying backgrounds, 'My East Is Your West' is an essential record that explores cultural and musical diversity in way that will continue to be relevant for years to come.
Tracklist

A1. A Street In Bombay
B1. The Creator Has A Master Plan
B2. Mind Ecology
C1. Malkauns (Part 1)
C2. Malkauns (Part 2)
D1. Journey In Satchidananda
D2. Hajj
E1. Earth
F1. Mishrank
F2. Utopia And Visions
Musicians

Sarathy Korwar - tabla, drum kit
Domenico Angarano - double bass, electric bass
Aravindhan Baheerathan - bansuri (flute)
Giuliano Modarelli - acoustic guitar
Al MacSween - keys
Tamar Osborn - baritone sax, flute
Jasdeep Singh Degun - sitar
John Ball - santoor, tabla
Jesse Bannister - alto sax
Aditya Prakash - vocals
B C Manjunath - mridangam, kanjira

Composer Credits

A1.  Amancio D'Silva
B1.  Pharoah Sanders, Leon Thomas 
B2. John McLaughlin and Shakti
C1. Shankar-Jaikisha
C2. Traditional
D1. Alice Coltrane
D2. Abdullah Ibrahim
E1. Joe Henderson
F1. Ravi Shankar
F2. Don Cherry